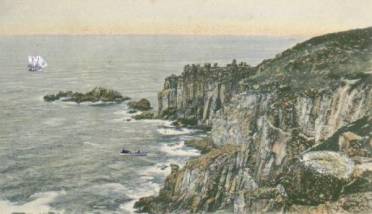 Had John Vingoe's Boat Come In?

Some of the characters and their links;

John Vingoe: 16 Jun 1722 Sennen - buried 29th Dec. 1789 Sennen (Will 1791). The father of William and John Jnr.

John Vingoe Jnr: bt 12 May 1751 Sennen - died 6 Jul 1829 Sennen

William Vingoe: b. 30 Nov 1743 Sennen - buried 23 Apr 1808 Sennen :John Vingoe Jnr's elder brother.

Richard Treeve: b. 27 Nov. 1742 Sennen - buried 11th Oct. 1781: Partner of John Vingoe Jnr.

Joseph Humphreys: Married Mary sister of Richard Treeve.

Jonathan Humphreys: son of Joseph and Mary was to marry John Vingoe Jnr's daughter Elizabeth bt 20 Nov 1780, in 1799.

Nicholas Pascoe: became the father in law of John Vingoe Jnr's son William bt. 1791.

John George: married John Vingoe Jnr's sister Sarah b. 1758 at Sennen d. 15th May 1815, married in 1786.

Thomas Phillips owner of the Scilly warehouses.: married the widow of Richards Treeve's brother Joseph in 1790.

0-0-0-0-0-0-0-0

John Vingoe (1722 -1789) of Trevescan, Sennen had two sons, William (1743 - 1808) and John Vingoe (1751 – 1829). This Vingoe line were both farmers and seafarers and like many other families in Penwith they were involved in both free trading (smuggling) and its prevention. John senior and his younger son were the farmers and free traders, whilst John's oldest son, William represented the law. This branch of the Vingoe family also owned the "First & Last Inn" in Sennen Church Town so had a ready outlet for goods brought in.

For hundreds of years the main trading areas for the people of the Lands End outside of West Cornwall were Brittany and Italy with Wool, tin and copper being exported to Brittany illegally in exchange for tea, spirits and other goods such as lace and silk. Whilst on the legal side salt, which was used in the preparation of fish, was imported from the salt pans around Belle-Île, Ouessant in Brittany . The salted fish was then exported to Italy.

In 1760 some 2500 Cornish bushels ( which equates to 118,000 tons of salt) were imported into Newlyn and Mousehole alone.

On the export of fish a Parliamentary sub-committee reported that:-.

"Mr Thomas Treeve, a Merchant at Penryn was examined on the state of the Pilchard Fishery. The quantity of fish caught from 1785 to 1790 was 7,000 hogsheads annually…. Most was exported to the Mediterranean except three small cargoes which were exported to France, Teneriffe, and St Sebastian."

A hogshead contained around 476lbs or approximately 3,000 fish.

The smuggling of wool was abundant in Cornwall and it would be another twenty years before Parliament really got to grips with it. On the 15th September 1768. The Penzance Customs house sent the following letter to Bristol:

In consequence of ye honours orders of 17th June... we had caused to be arrested three of the people concerned in running wool to France... Richard Tresidder, Rich. Tresidder the younger and Thos. Tresidder, and sent to be secured in the Sheriffs ward for want of proper security. (John Tresidder and Richard Richards not yet taken.

John Vingoe Snr's. elder son William was a lieutenant in the Navy serving aboard HMS Wolf around the Cornish coast in the early 1770's and was therefore representing the law, although the reason he was in the Navy may well have been that he was captured during a smuggling trip and pressed into the service. Many Cornish smugglers made quick progress from the ranks to officer because of their knowledge of the sea and navigation and the Wolf at this time is known to have had many locals amongst its crew.

There was no love lost between the Navy and the Customs service in Penzance at this time and the local head of Customs wrote a number of letters to the Commisioner of Customs complaining about a lack of co-operation.

Letter from G Scobell to Commisioner of Customs.

We beg leave to represent that we have the greatest reason to believe that there is a great quantity of goods constantly smuggling in Mounts Bay within this port and are sorry to say that very little of late was seized; the cause of which seems principally to be owing to the want of a cutter on this station.

The "Wolf" sloop of war has for some time been stationed here, (she is now in Plymouth), she sails very badly. Sometime since the collector applied to the Captain of the "Wolf" representing to him the great number of boats that constantly went from these ports to France supposed on the illicit trade and desired his assistance, he replied that with the "Wolf" he could never take any of these boats.... a large sailing Cutter was the only vessell for this service.

However, even when the Wolf captured a smuggler the Captain and the Custom men fell out.

Sent 23rd Jan 1772

"On 26th Sept. last was brought to His Majesty's warehouse in this port by Cap't Williams of H.M. Sloop "Wolf", a parcel of Brandy and Geneva. (William Williams would not give up his moiety) Taken from John Thomas and Richard Mann in a small boat which was stove on the rocks."

Because the boat had been wrecked on rocks, Cap'n Williams, who may well have been pursuing the smugglers, claimed half the cargo as salvage. This obviously upset the Collector of Customs who must have thought the cargo should have been given up as smuggled goods. After an inquiry was held, it was ruled that Capt. Williams did have the right of salvage and we must presume that William Vingoe got his fair share.

The law failed to end the smuggling or to protect the Customs officers. Mr. Edward Giddy recording on March 4, 1778, after some particularly flagrant daring,

'I fear a criminal prosecution would be useless at best, for a reason which it shocks me to mention, that a Cornish jury would certainly acquit the smugglers.'

John the younger brother lived at home until he married Elizabeth Harvey on the 31st of January 1780 at Sennen and the couple moved to Escalls on to land that his father had bought from Joseph Humphreys. John Jnr. was in partnership with Richard Treeve (1742 - 1781) of Sennen. This Richard also had a link to the Customs Service as his cousins were a Richard and William Treeve of Penzance who were the Surveyor and Deputy Surveyor for the Customs service in Penzance.

In I779 a statute was issued by Parliament making ships forfeitable for having on board brandy in illegal packages, or ,when, not being over 200 tons, they carried any goods which became forfeitable. The Act against boats with more than four rowlocks, which applied to the south- eastern counties only, was made to include all boats with more than six oars in the other counties, tow-boats of Bristol excepted. Excise officers were granted still wider powers of seizing goods afloat, and justices were enabled to fine jailers for allowing smugglers to escape. Smugglers were made liable to be pressed for the army as well as, the navy. John Jnr. and Richard owned a 30 ton Lugger which they called "Lands End" and this latest statute would have had them worried.

As the country was at war with America, a way out of the problem was to go Privateering. So in January 1781 they applied for and were granted letters of marque to seize both French and Dutch ships and their cargoes. Privateering was a kind of legalised piracy used by both sides in the American war of Independence. France and Holland being allies of the Americans. The Cornish smugglers were still trading with the French through Guernsey and letters of marque were seen as a means of explaining away a smuggled cargo if stopped by the navy or customs men. Two famous Mounts Bay smugglers, the Carter brothers of Prussia Cove also used this cover but their Sloop the "Swallow" was captured with its crew by the French with Henry Carter being held for some time before being exchanged for a Frenchman who had been captured in Britain.

The "Lands End" lugger was not big enough to carry carriage style cannon so she was fitted out with 6 swivel guns. When she was registered for her letters of marque her crew was put at thirty with Richard registered as the Captain.

In the same month and year as John and William got their letters of marque, their cousin Mary Vingoes husband Andrew Stevens of St Ives and his father fitted out their 30 ton fishing Lugger "Ceaser" and also secured letters of marque . J. H. Mathews in his book "History of St Ives" says that having captured a Dutch ship they sent it into St Ives where they were accused of not having letters of marque to take Dutch ships and accused of piracy. He states that "they had to pay heavy compensation to settle the matter." The records at the PRO show

, however that they did indeed have letters of marque allowing them to take both French and Dutch vessels.

John and Richard had left it late to go privateering as with the surrender of Lord Cornwallis at Yorktown in October of 1781 the American war was almost over. Even before that event however, many had seen the writing on the wall and seven Cornish privateers were advertised as being for sale in the spring of 1781. The "Lands End" is not shown as having any success as a privateer, and as already stated the Letters of Marque were possibly just a front for the family smuggling business.

The short partnership came to an end with the death of Richard Treeve in October of 1781 he was buried in the church yard at Sennen a relatively young man. Just how he died is still a mystery.

Following the end of the American war the government had both men and ships to concentrate their efforts on defeating the smugglers. Another act was passed by parliament which stated that a ship should be forfeitable for hovering within four leagues of the coast for the purpose of running goods. Boats built for running and found hovering were made forfeitable, even with no cargo on board. Vessels found 'within the limits,' carrying weapons beyond two carriage-guns of 4 pounds calibre, and two muskets to every ten men, were made forfeitable, Government Vessels and ships from 'distant places' excepted. Any person shooting at a revenue vessel or officer, or wounding an officer, was made liable to 'death as a felon, without benefit of clergy.' Revenue cruisers might fire upon vessels that refused to bring to.

The Cornish smuggling luggers were built for speed and carried lots of sail including a spinnaker. The government tried to counter this by adding another Act of the same parliamentary session which provided that any cutter, etc., belonging to the king's subjects, and found within four leagues of the coast, having a bowsprit of a length more than two-thirds that of the vessel, should be forfeited. At the same time the regulations as to the breaking-up of vessels condemned for smuggling were amplified. Read in their new form, they convey a sensation of ferocious solemnity. The ballast, masts, pumps, and bulk-heads were to be taken out, the decks ripped fore and aft, the beams sawn asunder, the bottom planks ripped off, the keels cut into four pieces, and the stern-posts into three. Boats condemned were to be cut through the thwarts, the hulls sawn into four parts athwartships, and the stems and sterns into two.

But not all the governments plans worked.

A scheme was brought in to stop smugglers breaking into Custom warehouses and stealing back their confiscated goods. All seized spirits were to be transferred into larger barrels. this caused the London Times to write the following on the Friday the 14th of October 1785: -

The Brandy Merchants Scheme has by no means put a stop to smuggling; for it is a truth that at this time there are more goods run on the coast of Cornwall and the North of Devon than ever; and the first great scheme of storing all seizures of small casks into large ones of 63 gallons each has been one great cause of this measure in smuggling, as housekeepers and small victualers used to furnish themselves at the custom house sales; but now these large casks are beyond their purses.

On the 7th of December the same paper reported that:

By accounts from Penzance in Cornwall we are informed that smuggling in its various branches is persued on that coast with uncommon ardour. The vigilance and activity of the Revenue officers are thus eluded by the formidable crews engaged in illicit traffic; and so very much so, that it cannot be counteracted but with great danger.

Again the Times reported that in 1785 it was calculated that some 500,000 gallons of spirits or 100,000 ankers or small barrels had been landed by smugglers in Cornwall.

In a debate which took place in Parliament on Wednesday the 29th of November, one M.P. a Mr Kemp, said that:

"he had attended the Committee of the House and that several instances of smuggling wool to France were stated. It had been said that the French could not work up their wool without a mixture of ours, and that the proportions are one English to Four French packs or bales; and that wool which sold in England for £7 per bale produced £18 in France and Brittany."

So it was that with more and more efforts going into stopping the Free Traders, an event occurred which could have meant that smuggling became a thing of the past for the Vingoes.

Part of the Vingoe lands included the site where the "Lands End Hotel stands today. This would have given an excellent view of shipping passing around the peninsular and early on the 16th day of December 1785 a French brigantine the "L'Aimble Sara" was taking on water and in serious danger of sinking as she tried to make progress around the headland and into calmer waters. Word quickly spread through Trevescan and Treeve church town. Some made their way to the cliff top whilst John Jnr. And his crew went down to the beach to see if they could launch their boat. The ship was getting ever closer to the rocks and her captain Masseur Francois Cardon gave orders for the crew to abandon her. So it must have been with some relief that John Vingoe and his crew took their chance to make a lot of money by setting sail to salvage her. The "Times of London" carried a report of the incident on Monday 2nd. January1786.

The "Times of London" Monday 2nd. January 1786.

Extracts of a letter from Penzance, Dec 22.

"On Saturday last, about seven o'clock in the morning, a large ship was seen about two leagues west of Lands End, in apparent great difficulties; the wind then very hard and east. Thirty people from a small village called Sunning, (Sennen), went out in two boats to their assistance. between the ship and the shore, they were met by two boats from the vessel, who told them they were from Port au Prince, bound for Dunkirk, that they had been out fifty six days, and had met very hard weather. the Ship was very leaky and when they quitted her, she had six feet of water in the hold, and they supposed she would go down in less than a quarter of an hour; this did not stop the Cornish men; they boarded her, and found very foul play had been used, and great pains taken to sink the ship. Three augers were found with which they had bored holes under the cabin and also the rigging was cut away, the more to disable her, and the principal pump gear hid away. They stopped the holes as soon as possible, and in a few hours got her safe into St. Mary's, in Scilly, where they are now discharging her cargo, which is coffee, sugar and indigo; and I am just now informed by a letter (from home) that it is worth ten thousand pounds. The person who calls himself the Captain, says his name is Francis Cardon, the ship called the Sarah; and that they left the real Captain sick in the West Indies. but that story gains very little credit here. They brought a great quantity of specie (money) on shore with them which is safely lodged in town; I understand fifty chests of dollars.

The ship was the French brigantine the "L'Aimble Sara", to give her full name and the story makes interesting reading. The report below from the Cornwall record office archives tells a different story there being no mention of the crew deliberately sinking the vessel or of the 50 chests of gold, which is no surprise as I found it hard to beieve that two boats were supposedly able to hold the crew plus those chests.

A Salvage Claim by John Vingoe & Others in 1786 Ref. Cornwall Record Office

Judgement in Salvage Claim dated 8th day of February 1786.

Page 1

Cornwall to wit, whereas, The good brigantine or vessel called L'Aimble Sara, from & belonging to Dunkirk in the Kingdom of France, where of Francois Cardon was master, laden with sugar, coffee and Indigo with other articles, whilst on a voyage from Port au Prince to Dunkirk on the sixteenth day of December past; quitted by the said Master Francois Cardon and all the rest of the crew on account of the vast quantity of water then in the holds of the vessel; and their vessel or brigantine soon after her being so quitted by her master and crew was boarded and taken possession of near the Lands End of England by John Vingoe the younger, Nicholas Pascoe, John George, the younger, Jonathan Humphreys and several other persons of and belonging to the Parish of Sennen in the County aforesaid and by them carried in the afternoon of the same day into Saint Mary's on the Scilly Isles when the cargo of the said vessel has been landed and cellared in the wharehouses of Thomas Phillips lying in Saint Mary's aforesaid. And Whereas it has been represented unto us (whose hands are here under subscribed and seals offered three of His Majesty's Justices of the Peace for the said County and inhabiting near the place where the vessel has been salved and the cargoe landed and wharehoused. ) by Messers George Croker Fox & Sons of Falmouth in the same County, Merchants, on behalf of themselves and the Propriertors of the said Brigantine or vessel and cargoe and that the several persons so concerned in salving the said vessel, and preserving the cargo demanding an extravagant salvage they could not agree with them concerning the several sums of money they respectively recorded to be paid for their deeds and afstance in salving and preserving the said vessel and landing and warehousing her cargo, and therefore prayed on the said Justices to ajudge and settle the same in such manner as to us should s---- and reasonable according to the laws in such case made and provided.

Now we the said Justices having duly weighed and considered the premises and having examined the several matters and things and heard what could be alleged and proved concerning the same, Do therefore order, adjudge, adjust, settlement and allot the several charges, expences and gratuities to the several persons who acted and were concerned in the salvage and preservation of the vessel and cargo to be paid and allotted to them respectively in manner and form, and in such proportions we hereinafter mentioned and charged, that is to say:

Judgment on Salvage Claim dated 8th day of February 1786. Page 2

To hire of the sloop & boat sundry times over, the Capt. & crew

Mr Jon Batten to & from Scilly with the mariners, expenses included £ 133 13 11

To George Shervey & others for assisting in discharge of cargo £ 5 15 0

To cash paid with an express to Scilly with a letter to Mr Jon. Batten £ 5 15 6

William Edwards, the innkeepers Bill for sundries at their house in Scilly

for the board, lodging & expenses of the crew of the vessel & Persons attending

to value the cargo. £ 69 16 0

To John Bvich for new casks & coopering the casks in the hold of The vessel

and landing the same £ 20 5 0

To three persons for their trouble in surveying the vessel £ 3 3 0

To William Thomas for his trouble to attending at Scilly on board .

the vessel 24 days & night to prevent the cargo being plundered £ 25 4 0

To Neremiah Batten for his attendance on the same business, five weeks £ 10 10 0

To Charles Francis for his attending three weeks £ 3 3 0

To William Edwards on his attending on salving the cargo £ 2 2 0

To Thomas Graham for the like £ 2 2 0

To William Thomas for drawing affidavits made by several of the Crew and

paid the Govenor for swearing them £ 5 5 0

Judgement on Salvage Claim dated 8th day of February 1786. Page 3

To William Treludder for expenses of several of the crew whilst in Penzance. £ 6 7 6

To John Hampton for the like £ 0 18 11

To William Rescarla for the like £ 2 5 6

To cash paid for expenses to & from London & Exeter £ 11 11 6

To lock & staples to put on the warehouses £ 1 19 6

To postage of letters paid be Jos Batten £ 7 6

To cash paid to Alex Gardener for bringing crew & their baggage from Sennen

to Penzance £ 1 18 0

To cash paid to the crew to purchase provisions £ 13 16 6

To be paid for Chaise service & Horse Service to the Lands End and for

provisions for the crew & summary of furbishment of the Bill £ 20 13 6

Copies therefore to be sent to the several owners, insurers, and those concerned

and several attendances on the business. £ 10 16 4

To cash paid interpreter for attendance made at Sennen when prot made. £ 1 1 0

To Mr Jos Batten & Thos Halse for their attendance at Scilly Salving ship

& Cargo £ 50 0 0

To Mr John Medbury, Governor of the Islands of Scilly for his Services. £ 5 5 0

To Alex Gendallans for assisting the Sennen mariners in piloting the vessel

into St Mary's £ 10 4 0

Judgement on Salvage Claim dated 8th day of February 1786. Page 4

To Sundry labourers for unloading vessel and carrying the goods to the

warehouse & stowing same. £ 47 18 11

To Sundry labourers for unloading vessel and carrying the goods to the

warehouse & stowing same. £47 18 11

Expenses for Capt. Carson & crew when they left the ship and landed at Sennen. £ 27 4 11

To Thomas Phillips for the rent of 5 wharehouses for five months. £ 11 0 0

Sundry labourers for taking the cargo out of the wharehouses in order to appraise

and value the same. £12 12 0

To Emmanuel Trevithick & Son Coopers, for coopering the cargo when warehoused,

appraised & -------? £ 23 16 0

To dunnage put under the cargo in the wharehouse,3 planks. £ 3 11 6

To hire of several sloops to carry letters to and from Scilly for Mr Croker,

Fox & Sons & bringing over several persons to attend the Justices. £ 40 4 0

To the hire of two wharehouses & two Malt Kilnes for drying the Coffee. £ 5 5 0

To Coals used in the Kilns. £ 3 3 0

To Thomas Nicholls & Partners for their labour in attending to the Coffee for

4 days & nights, including candles. £ 10 10 0

To several persons for washing the damaged coffee in fresh water. £ 3 19 6

Judgement on Salvage Claim dated 8th day of February 1786. Page 5

To Thomas Graham for his several attendances. £ 3 3 0

To Tavern expenses on land for drying overhaul & weighing the Cargo for

labourers & sundry persons. £ 32 18 5

To Thomas Phillips for candles & Sundries. £ 3 13 3

For George Reynolds for his attendance at Scilly for 2 months taking care

of ship & cargo. £ 31 10 0

To Mr Cuppee for board & lodging at Scilly. £ 12 8 6

To Shipwrights Bill for their attendance when the vessel was Stranded. £ 7 13 11

To sumory persons ---- at various times the ships and cargo appraising and

valuing them. £ 12 12 0

Paid for drawing & survey. £ 2 2 0

Paid for notural instruments at Scilly. £ 3 3 0

To Quay services & on land services shipping the cargo. £ 4 0 0

To Lazarus Solomon for attending the Governor of Scilly as Interpreter when

several of the crew were examined. £ 4 0 0

To cash paid for light money for the vessel. £ 20 0 0

To money paid for boxes & bags for samples of the coffee. £ 1 10 0

Judgement on Salvage Claim dated 8th day of February 1786. Page 6

The cost of wine for sea stock for several people to take with them to Scilly £ 5 5 0

To postage of letters to and from London for Messurs Fox & Sons. £ 10 0 0

To Mr Cuppee for his attendance at Scilly taking care of Ship and Cargo. £ 21 10 6

To Thomas Phillips for his care and trouble of same. £ 10 60 0

To Dionysius Williams for same & expenses. £ 12 12 0

To sundry expenses Chaise hire etc for Mess. Fox & Sons and their attendance

on this business. £ 16 0 0

To drawing the cargo from the warehouses to the waterside. £ 9 9 0

To Tavern expenses at Scilly for selling the goods for payment Of salvage. £ 7 0 0

Advertise the sales in several papers & print advertisments. £ 10 0 0

To Francois Marjauning for his trouble attending the sale at Scilly to preserve

the ship & cargo. £ 10 0 0

To Tavern expenses for agents on lotting and valuing the cargo. £ 10 0 0

Three Justices for attending the adjudication two days. £ 9 9 0

To the solicitor drawing Petitions, Notices & Justices adjudication and

attending for two days. £ 6 6 0

To summary expenses attending to meetings of the Justices at two different times. £ 20 0 0

To the Collector of the Customs at Scilly for his trouble and attendance on this

business. £ 15 15 0

Judgement on Salvage Claim dated 8th day of February 1786. Page 7

To the Excise Officer for same. £10 10 0

To Thomas Hall comptroller surveyor and land waiter for same. £ 8 8 0

To Customs Boatmen for same. £ 12 0 0

To Special Sufferences. £ 2 2 0

To Fox & Sons for their summory attendance a trouble about the Ship and cargo.£ 50 0 0

To John Vingoe and 19 men for the salvage of the ship and cargo having taken

possession of the same off the Lands End when forsaken by the Captain and

Crew and sailing her into St Mary's one of the Scilly Islands

and their expenses included. £500 0 0

To Brokerage of the sale etc. £ 51 2 0

------------------

Total £1,459 - 13 - 7d

For payment and satisfaction of which said sum of one thousand four hundred and fifty nine pounds thirteen shillings and nine pence. We the said Justices do hereby order and ------ that so much of the cargo of the Brigantine or vessel so salved as aforesaid and shall be sufficient for that purpose be forthwith sold to the highest bidder for ready money by the Mess George Croker Fox & Sons and after such much money shall be thereby raised as will be sufficient to pay and satisfy the said sum of One thousand four hundred and fifty nine pounds thirteen shillings and nine pence. That they Mess. George Croker Fox & Sons shall may well and truly retain, reinburse and pay to and for themselves and the other persons initialed to receive the same by virtue of this our order and judgement that the sums and preportions of the money so to them respectively allowed and allotted according to the true intent and means of these Prevents and the laws in such cases cited.

Given under our Hands & Seals at Penzance in the County of Cornwall the 8th day of February 1786.

John Tonkin John Price William Veale

For some reason a further three years and two months were to pass before the sale of the vessel and her goods would took place. There appeared a series of four adverts in the Times Newspaper between March 27th and April the 27th 1789. These read as follows:-

On Thursday the 30th day of April next, by Ten o'Clock in the Forenoon, at the House of WILLIAM EDWARDS, St. Mary's, one of the Islands of Scilly.

THE FRENCH BRIG, L'AIMABLE SARA. of about 260 Tons Burthen, with all her Materials, the said Vessel is well calculated for the Foreign and Coasting Trade, and may be sent to sea for a small Expense.

Immediately after the sale of the above Brig will be sold at Public Auction, the said Vessels Cargo consisting of about

25 Tons of Coffee (Great part of which damaged). 50TonsofSugar. 4 cwt of Indigo 1 Bag of Cotton Wool

The Goods may be viewed fourteen days before the sale, on applying to the Collector of Comptroller of the Customs at Scilly, and further particulars known and Samples viewed by applying to George C. Fox and Sons, A Falmouth Agent for the Concerned.

Dated at Falmouth, March 23rd 1789.

What caused the delay and just how much was raised by the sale? Did John Vingoe junior and the rest of the crew get their just rewards? Had John enough money to build a new house for himself and Elizabeth at Escalls? All these questions remain unanswered at the moment but the search continues.

John Vingoe Snr. was buried at Sennen on the 29th of December 1789 and all the family land at Trevescan & Escalls passed to John Jnr., whilst William who was the eldest son received forty shillings a year for the rest of his life. William lived a further 18 years and received a total of £38.

References

Paul parish Records

CUST 68/8 Penzance collector to board 1771 - 1774

The "Parliamentary Register" Vol. XVI. Published in London in 1780. Contains a list of serving customs and preventative officers.

Public Records Office

HCA 26/ High Court of Admiralty: Prize Court: Registers of Declarations for Letters of Marque 1689-1809

This series comprises registers of declarations for letters of marque concerning the Prize Court of the High Court of Admiralty.

These declarations were made after the Lord High Admiral or Commissioners of the Admiralty made out warrants, directed to the Judge of the High Court of Admiralty, for the issue of letters of marque to commanders of private vessels. Those commanders were then required to make a declaration in the High Court of Admiralty, giving certain specified details of the ship, its armaments, its crew and its officers. The declarations span the period 1689 to 1808; those from 1809 to 1815 have not survived. The registers from 1689 to 1783 are indexed internally. Declarations from 1793 to 1808 were made on loose pre-printed forms, most of which were later bound as registers; some remain loose.

The Autobiography of a Cornish Smuggler by Captain Henry Carter 1749 - 1809.

First published in 1894 and reprinted by Bradford Barton of Truro, Cornwall, 1971

Royal Institution of Cornwall Journal 1998

Sherbourne Mercury

H.C.A. 28/ High Court of Admiralty: Prize Court: Minute Books, General Series 1777-1842

This series comprises minute books (general series) concerning the Prize Court of the High Court of Admiralty.

These minute books summarise the proceedings in each case. A few cases in the Instance Court are also recorded. Down to 1833 each volume has an index to ships' names. Although the books span the years 1777 to 1842, there are gaps in the series.

Cornwall Records Office, CRO X460/1 - date: 1753-1800, Miscellaneous Documents from West Cornwall

Copyright George Pritchard 2006.

0-0-0-0-0-0-0-0-0-0-0
Copyright © 2001. /02. /03. /04. /05. All rights reserved.
Revised: July 21, 2006 .