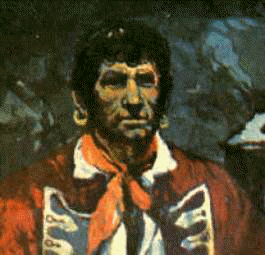 THE PIRATE

Some time ago I found an article by a highly respected Cornish historian of the 1930's Mr. J Hambley Rowe M.B., C.M., F.S.A,. In the article he set out to try and prove who the characters in one of Bottrell's stories really were. William Bottrell had a habit of using asterisks after each initial letter of the surnames, with the idea of giving a correct clue to the families concerned without revealing to all and sundry what the names really were. The story that Hambley Rowe chose to investigated was "The White Witch, or Charmer of Zennor" which appeared in the first volume of his "Traditions and Hearthside Stories of West Cornwall.

The heroine of the story of the white-witch is called Margaret D*****, and her husband, the pirate, is called William V*****. Although Bottrell chose to disguise the surnames, there are indications that they both hail from the Land's End district, rather than from Zennor, where the scene is laid. Of surnames beginning with V and associated with Sennen there is only one— Vingoe, and of course Bottrell's paternal grandmother was of that family. Also in the story he refers to the legend of the "Lights of Trevilley" which we know, is told by Robert Hunt, in his "The Drolls, Traditions and Superstitions of Old Cornwall" in which he refers to the Vingoe's.

In Bottrells story it is related that William V***** and Margaret D***** were married at Falmouth, so Hambley Rowe started with a search of the marriage registers of that parish and of the mother-church of Budock. He tells us that there were only two marriages of males of that name, both Jenkin Vingoe, father and son—the elder to Elizabeth Remphry, in 1726, and the Younger to Frances Dennis, 1760. He then seems to dismiss them from further consideration by moving his search to the Sennen Parish. I must say I find his decision odd and will explain why later.

He tell how "a search of the parish registers reveals that no William Vingoe got married in the parish between 1699 and 1812 however there was a marriage of a John Vingoe and a Sarah Dennis on the 3rd of July1743 and that the surnames would fit nicely into Bottrell's story." He goes on to point out that "the Dennis's were a Land's End family, and one of some intellectual standing, for one of them Alexander Dennis, of Sawah was the author of "Journal of a Tour Through England and Scotland", published in 1816 and that Thomasine. Baptised at St. Levan, Sep. 30, 1770, his daughter by Catherine (née Dennis), his wife, was the authoress of Sophia St. Clair, a novel published in 1802, which is now so scarce that I have found it unattainable."

He then looked at the claim by Bottrell that the story teller Uncle Mathey Thomas was married three years before his friend William V*****. The Uncle Matthey in the story had a wife called Joan, or "An (Aunt) Joney."

Hambley Rowe states "I have found seven marriages of Matthew Thomas's in Towednack and Zennor Registers. Matthew seems to have been a popular name in the Penwith highlands, much as Anthony was in the Meneague district, and Thomas is not rare as a local surname, but of the seven wives, none owns the name of Jone or Joan." However, he goes on to say that he identifies "Uncle Mathey Thomas with Mathew Thomas who married Ann Roberts at Towednack in 1740."

Having carried out his investigation Hambley Rowe states that he has identified the Zennor witch and her husband as John Vingoe and Sarah Dennis, married in 1743 at Sennen for the following reasons:

1. The Vingoe's were a Lands End family.

2. The Dennis's were also from the Lands End.

3. Both Vingoe and Dennis have six letters.

4. Bottrell speaks of Margaret D***** as a woman of superior attainments.

5. He (Hambley Rowe) had found a record of a Mathew Thomas of Zennor getting married three years before John and Sarah.

6. Bottrell states at the end of the tale that Margaret D***** moved to Escalls, which is a small hamlet close to Sennen and Hambley Rowe points out that at the time this was a stronghold of the Vingoe's.

I stated earlier that I thought Hambley Rowe's was wrong to dismiss Jenkin Vingoe as a possible claimant to the role of the pirate. Indeed not only do I think he was mistaken to dismiss Jenkin but he was wrong to consider John had a greater claim for the following reasons:.

1. John Vingoe was the first son of William Vingoe.

2. When William died he left his land at Escalls to John.

3. John Vingoe did indeed marry Sarah Dennis at Sennen on the 3rd of July 1743.

4. The couple then went on to have nine children.

5. John died in 1791 leaving a will which refers to him as a Yeoman Farmer.

6. Sarah is not mentioned in the will so she may have died before John.

John Vingoe was a farmer, a worker of the soil and a solid family man. I believe we should dismiss any idea that he was the model for the Pirate in Bottrell's story and should take a further look at Jenkin.

We should start by looking at Jenkin's background.

Jenkin Vingoe's grandfather (also called Jenkyn) had married Beatrice Carlyon at St. Ives, 4 June, 1699, and leased a Rope Walk at Porthminster, St Ives. There is a record of the baptisms of their son Jenkin ll, at St Ives, on the 28th of September 1701.

In J. Ingle Dredge's paper on Marwood Briefs we find that in October 1722, Jenkin Vingoe, of St. Ives, (Jenkin's Grandfather) had a brief for a charitable collection in churches in Cornwall. The church wardens book of North Walsham in Norfolk also states "November 19th 1722 collected to a brief for a fire which consumed the goods and clothes of Jenkin Vingoe at St Ives in the county of Cornwall (the damage a thousand pounds and upwards) 2 shillings."

Jenkin's father married Elizabeth Remphree at St Ives on the 19th October 1726 with their first child Richard being baptised at St. Ives.

By the time their second child Ann was born on the 8th of June 1729 they had moved to Falmouth.

Their second son, our Jenkin lll. was baptised in Falmouth on the 20th of August 1732.

They had two other two children who were also baptised at Falmouth.

So at the time of Jenkin's birth his family had lost its money. Could this be the reason for him going to sea aged fifteen.

These then are my reasons for putting the case for Jenkin Vingoe being the Pirate and his wife being the White Witch:

1. Jenkin was a second son of Jenkin Vingoe.

2. Jenkin Vingoe and Frances Dinnis married on 13th October 1760.

3. The marriage was at Falmouth

4. The surnames are the same as in the case of John and Sarah.

5. Jenkin disappears with no trace of a record for his death.

6. His Widow marries Samuel Tyrril at Falmouth on the 21st of January 1764.

There are two other pieces of evidence which I feel should be taken into consideration.

1. Frances Dinnis was the daughter of William and Frances Dinnis of Falmouth. They had six children Frances being their eldest born 19th November 1732 and the youngest being John who was born on the 28 Aug 1743. John would have been just 17 years old at the time of Jenkin and Frances's wedding.

2. A trawl through the Records for Cornwall came up with just three marriages between a Mathew Thomas and a Jone / Joane. The first was in Liskeard in 1669, when Mathew Thomas married Joane Reed. The second in Gwithian in 1687 when Mathew Thomas married Joane Watts. And the third in 1751 in Redruth when Mathew Thomas married Jone Pearce. This last one was within nine years of Jenkin's own marriage.

These then are the reasons that I claim Jenkin Vingoe to be the true pirate in William Bottrells story.

Return to the Lands End Vingoe's
Questions or problems regarding this web site should be directed to george@penhalvean.freeserve.co.uk
Last modified: Thursday May 01, 2003 .